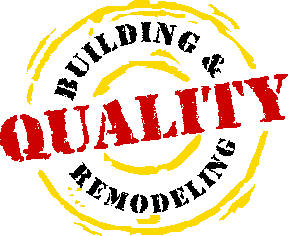 What Clients have to say about Quality Building & Remodeling
Thank you and Kevin again for the beautiful job on the screened in porch. It came out better than we ever could have anticipated. As usual, the extra care and special touch that you and Kevin always give to a project is fantastic.
Talk to you soon.
Jim and Moe Vecchione
Thank you for making our into our "dream home. Without the help from you and your team, starting with the design idea to the completed additional second floor, our project would not have been completed by now. We are amazed at how well you handled the last minute changes we suggested and offered us a complete package where we did not have to coordinate any of the project. You made us happy by staying within the budget and not throwing us surprises at the end and leaving portions not completed.
Jim & Sue Cassullo
Many thanks for such an excellent job of re-roofing and vinyl siding our house. It came out better than we expected or hoped. We were impressed with the care taken of the shrubbery when you removed the shingles and also the attention to collecting stray nails and staples. we couldn't have asked for more thoughtful workmen.
Edwin J. Hayes Jr.
I wanted to let you know how much I appreciated your taking away from your Sunday to help me. I don't know what I would have done without you. Thanks you so much.
Betty Brown
Associations Awards Photo Gallery Certifications Testimonials Company History Six Secrets Energy Audits Home Articles
copyright 2013 Quality Building & Remodeling 1064 Toll Rd., Effort, PA., 18330 (800)404-3995
We take the fear out of REMODELING